Tole Tea Trays - painted between 1700 and 1900.

Tole Tea Trays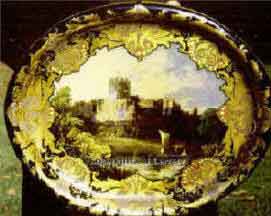 A Papier-mâché Tole tea tray made in the Black Country about 1850.
The central painting is of a river landscape with a castle in the background and painted with oil paint.
The outer edge of the tray is Gilded and the whole has been varnished.
Our thanks to A. J. Lewery for the use of these images.
(For more of the written and artistic work of Tony Lewery visit this link www.canaljunction.com/folk.htm )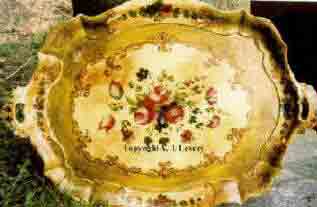 Different style, shape and decoration of this Tole Tea Tray from the late 1700's.
Oil painted central floral design, typical of pottery and furniture decoration of that time,
with the pattern repeated around the outer edge.
The Gilding is around the central area and the edges of the tray.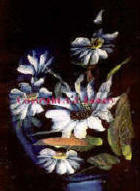 Taken from a Tole Tea Tray thought to be dated about 1750.
A much simpler design with flowers shown to be in a typical metal stove pot design of that time.
Painted with oil paint, varnished and un-gilded.
Copyright© Jacqui Blackman: A.J.Lewery and J and T Blackman 1999
Back to Tole Painting