Zest-it® Fountain Pen Cleaner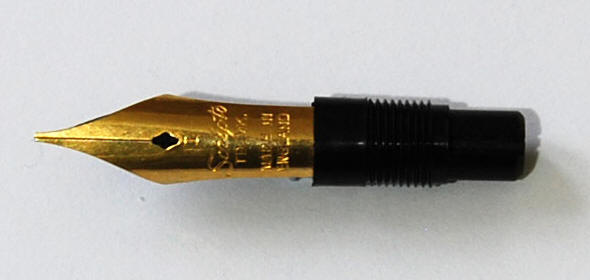 Scripto Italic Fountain pen nib.
Our Fountain Pen Cleaner will remove stubborn and old dried-on ink from the nib of Fountain and Drawing Pens.
We have tested it with many inks available for fountain and drawing pens, it removed them all. Our cleaner has a pleasant smell, contains no CFC's or Aromatics, its re-usable, its biodegradable, with a minimum usable life of 5 years.
Pour a small amount of Fountain Pen Cleaner into a suitable container that has a lid and place the nib(s) into the solution. Leave to soak for about 5 minutes, remove after this time and wash with water, dry on kitchen towel.
Inspect the nib and its feed for removal of the dried ink. If the feed is still not clear of dried ink, re-soak for a further 5 minutes and re-check.
Persistence and patience pay dividends when cleaning writing and drawing instruments.
Keep the used cleaning fluid in the lidded container and labelled, this can be re-used many times for cleaning your nibs as it has a long active life.
Copyright© Jacqui Blackman 2016
Available in sizes 50 ml and 125 ml.
Please note: This product contains citrus terpenes from the peel of the fruit and therefore there may be slight variations in the colour from clear to pale yellow. This does not affect the quality of the product.
Technical Pen Cleaner is stronger than Fountain Pen Cleaner.