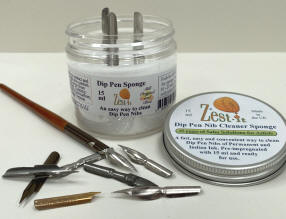 Zest-it® Dip Pen Nib Cleaner Sponge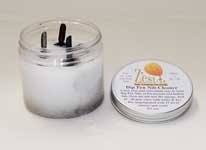 Dip Pen Nib Cleaner pot with nibs being cleaned.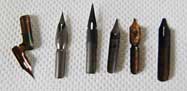 Dirty dip pen nibs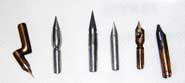 Just 10 minutes in the cleaner


Product Safety Information
for Zest-it Dip Pen Nib Cleaner PDF
The Zest-it Dip Pen Nib Sponge will remove fresh, stubborn and old dried-on Indian and Permanent Inks from the dip pen nibs that are allowed to dwell in the sponge.
The sponge can also work with steel tubular nibs of Technical Pens and other Drawing Pens, it can take longer to penetrate.

We have tested the fluid with Pelikan Drawing Ink A, Indian Ink, Permanent Pigmented Ink and others, it removed them all.
Our cleaner has a pleasant smell, contains no CFC's or Aromatics, is biodegradable, re-usable, water miscible.


The pre-filled Dip Pen Nib Cleaner Sponge comes as a lidded container containing 15 ml of fluid - with this, just push the nibs into the sponge and leave for the required time, wash under the tap with soap and water and wipe dry.
The advantage of the sponge is, it's easy and ready for use, you don't have to fish the nibs out of the fluid; it is economical in use and is long lasting.
In the image on the left you can see the ink is being removed from the nibs into the sponge.

It sinks to the bottom of the container, when overloaded with wash-off, the ink reside can be washed out of the sponge and then the sponge recharged with 15 ml of fluid.

*We have a caution to note; this product works so well that - if the nibs are left in the liquid too long, it may discolour the nibs by taking the coloured lacquer off the surface. The nib will not be harmed but it could be just a 'grey' colour when it comes out, whereas they may have been bronze when you put them in!
There are many nibs and many different finishes on nibs, not all are affected. Removing Ink video

Sizes available - 50 ml; 125 ml and 250 ml also Sponge in a Pot which is pre-impregnated with 15ml of Zest-it Dip Pen Nib Cleaner.

Please note: If you have used oil paint, liquid wax or masking fluid on the nibs then use one of the Zest-it Solvent's on the products page to clean them.

Copyright© Jacqui Blackman 2010
If you wish to Subscribe please visit our Zest-it Channel