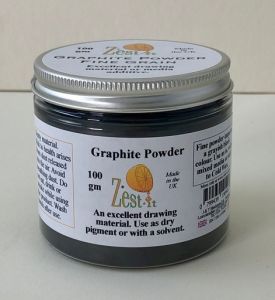 Zest-it® Graphite Powder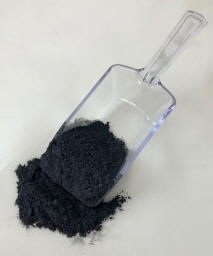 Graphite on a scoop to show structure.
.
Zest-it® Graphite Powder
Graphite comes from mineral rocks in a flaky form and is crushed to make the Graphite Powder. It is a stable form of carbon and defined as a non-metal that has some metallic properties. It has a greasy feel and is a dull metallic grey/black in colour.

Graphite, is of course, what traditional lead pencils are made from and is excellent for drawing, using with brushes, cotton-wool buds, tortillions and paper stumps. It has a slight metallic lustre to its finish when applied to most surfaces. It is a stable product, if highlights are needed it can be removed with an eraser.
As an addition to Cold Wax Painting Medium it gives good 'smokey' atmospheric effects, is excellent for misty, muted colour and monotone designs. The translucent nature of the Cold Wax Painting Medium gives it even more ethereal undertones.

Mix into the Cold Wax Painting Medium using a painting knife, be guided by the texture and feel, be aware it will make the Cold Wax dry a little faster.
Mix with pva glue, clear gesso or similar to form a ground that has grey/black finish and a smooth texture.
Care should be taken when using Graphite in volume as it is a dusty material and draughts can cause it to fly into the air. Have safety sense when using.

It can travel by road, sea and air.
Available sizes: 100 gm. (Larger sizes available)
Copyright © Jacqui Blackman 2017