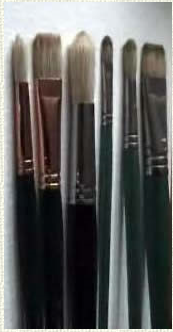 Assorted Hog brushes, Round, Flat and Filbert.

Bristle brushes for Oil painting and how they are made.
Artists brushes are hand made and for the oil painter finest 'Chungking' if often the preferred bristle, because it holds the paint well and has plenty of spring.

Natural bristle does not come to a point, it actually has two or three splits at the end, these are called 'flags'. This allows the bristle to hold more paint, with use, the flags often change colour having been stained by strong pigment, but this has no detrimental effect on the brush.
The bristle is cleaned, sorted, sized, sterilized and wrapped into bundles for each brush, this is then hand tied and then 'cupped' to form the various shapes. The bristle is then set into the metal 'ferrule' using a special type of resin glue. The best ferrules are seamless nickel-plated copper and they contribute to the size, balance and shape of the brush.
The ferrule is then crimped onto a lacquered hardwood handle, the handle carries all the information about the size, make and type of brush.
Brushes for oil painting, more often than not, are long handled, this helps the balance of the brush and allows you some distance from the work, very helpful when painting large canvases. Hogs are often used for expressive brush work, the imprint of the bristle remaining in the applied paint to give texture.