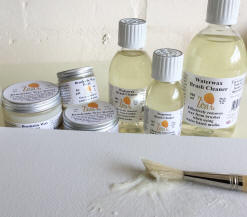 Zest-it® Brushable Wax Resist and Waterwax Solvent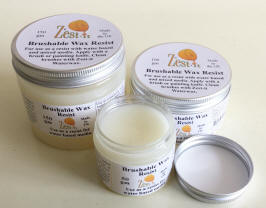 Pots of Brushable Wax Resist 50 gm; 100 gm and 150 gm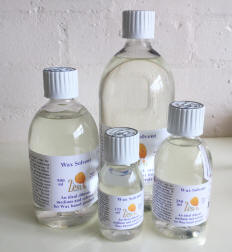 Zest-it Wax Solvent
.


The Zest-it Brushable Wax resist is non-toxic, non-flammable, it is a creamy white colour and made from renewable source Beeswax and Gum Damar. It has a very mild resinous, citrus, waxy smell.
Apply to paper or a porous surface as a Wax Resist, the area covered with the wax will retain its original colour. Textile Artists use it as a cold style Batik. The Brushable Wax Resist can be applied by a brush or shaper and a little goes a long way. The Brushable Wax Resist will resist the water media applied over the top. It will dry on the paper surface and does not need to be removed.

Applying with a bristle brush or painting knife will allow more impasto effects, if applied thickly allow to dry before washing over with watercolour. Pigment, glitter and metal powder can be added to the wax to give extra colour and different effects.
Do not use heat as this can cause the beeswax to give off fumes that can be irritating to the eyes and nose. It will also cause the wax to soak into the surface and become less functional. It is best allowed to dry then 'buffed' with a soft cloth giving subtle contrast to the watercolour surface.
The Brushable Wax Resist can be thinned further with the Wax Solvent, do not make too watery as this will affect the stability of the product.
Have 'safety sense' when using any solvent. Use in a ventilated area, away from sparks and flames, do not heat the product. Keep away from children, do not eat, drink or smoke when using the product (no water bottles in the same area!).

It can travel by road, sea and air, which makes it an excellent accompaniment if you are going on a painting holiday (depending on the airline).
Dispose of the any 'wax/paint sludge' by putting onto damp sand or soil in a container.
Do not throw the liquid or brush washings down the sink.

Sizes available - 50 gm; 100 gm; 150 gm.
Please visit our Wax focused site at www.artywax.co.uk for more information on using Wax Painting Mediums.


Copyright© Jacqui Blackman 2017


Yes

Yes

Yes